Breakfast, lunch and dinner
The cuisine of the Hotel Majestic reflects care and attention with which we welcome our guests and presents traditional dishes with regional and international influence.
As soon as you get up, you'll start your day with the right amount of good mood and energy thanks to our supplied sweet and savoury corner breakfast.
At lunch and dinner you can delight your palate with one of the three menus to choose fromaccompanied by a rich and tasty buffet of appetizers and side dishes.
La restaurant room overlooking the seaIt also has a cosy bar area, connected to a fantastic outdoor veranda, also overlooking the sea, where you can relax with fruity cocktails and summer drinks.
The fun of being at the table
In the hotel as well as at the table we want to pamper and spoil you, that's why for each menu proposed will be present all variations that you can request.
We also have an eye for our toddlerswe welcome them with a menu dedicated to them and to help moms, we've made flexible meal times.
Once a week we are happy to invite you to participate in our special Romagna or maritime dinners to make you taste the tastiest foods of our territory.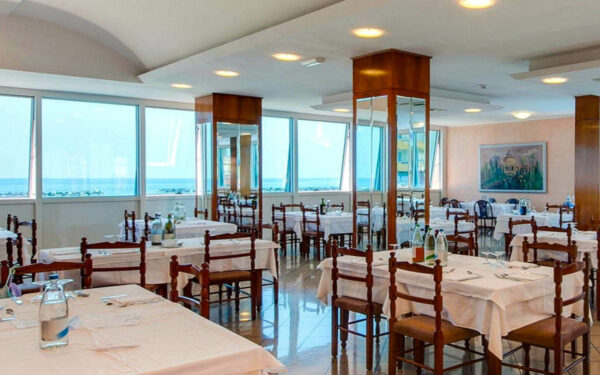 Carefree holidays
Quality, passion and services for your family
The Fornari Family, hoteliers from Romagna for generations, is waiting for you to make your holiday a daydream!